So You Are Totally New to Family Tree Maker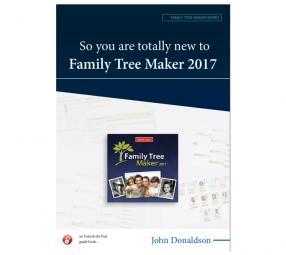 New third edition
This book covers the absolute basics for new users, so that users with little computer knowledge can get up and running. Specifically revised for FTM 2017, it also applies to FTM 2019.
The book takes you through installation, registration with Software MacKiev, and setting up new family files, or importing new files. It then introduces the eight Family Tree Maker Workspaces with enough simple explanation to get you started. Extensive use is made of screen shots (colour in this edition) to help you understand what you are seeing on the screen. 
This is a great little book that you can carry with you anywhere and also use in front of your computer.
Chapters include:
1. Getting started
2. Files workspace
3. Plan workspace
4. People workspace
5. Places workspace
6. Media workspace
7. Sources workspace
8. Publish workspace
9. Web Search workspace
10. Final thoughts
Product Details:
So You Are Totally New to Family Tree Maker